My registration
Annual long service leave statement
We provide a long service leave statement to all registered workers each year.
The statement shows:
your work recorded for the previous financial year (1 July to 30 June)
the number of service credits you have earned toward your long service leave entitlement
Note, you must have accrued a total of 3,650 service credits (equal to 10 years in the industry) to be able to make a long service leave claim. You can make a leaving the industry claim if you've accrued 2,555 service credits (equal to 7 years in the industry) and are permanently leaving the contract cleaning industry.
If you make this type of claim and return to the contract cleaning industry at a later date, your registration will restart at 0 service credits.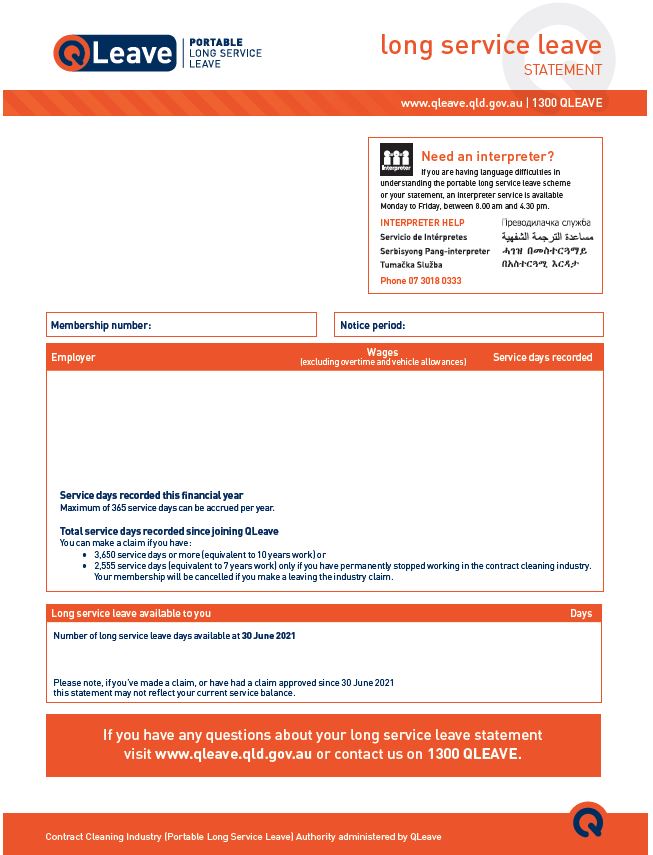 What if service is missing from your statement?
It's your employer's responsibility to record service for you each quarter. If you receive your statement and some, or all, of your work performed last financial year is missing, please speak to your employer to have them add this service for you. Failing this, you can also lodge a complaint with QLeave. Find out more.
Checking your service record online
You can see all the work that has been recorded for you since joining QLeave by logging in to the worker portal.
How to make a claim
Once you've recorded enough service to take long service leave, you can claim online. Making a claim is not compulsory, so if you're still working in the industry you can continue growing your entitlement and make a claim in the future.
If you've permanently stopped working in the industry, and have recorded at least 2,555 service days (equal to seven years in the industry) you may be able to make a leaving the industry claim.
More information on long service leave claims is available here.