Steps to claim your reimbursement online
Go to the Employer log in page.
Enter your username (QLeave employer number) and password and click Log in.
If you have forgotten your password, click Reset password and a temporary password will be emailed to you.
Click on Online Claims from the menu.
To make a claim click New.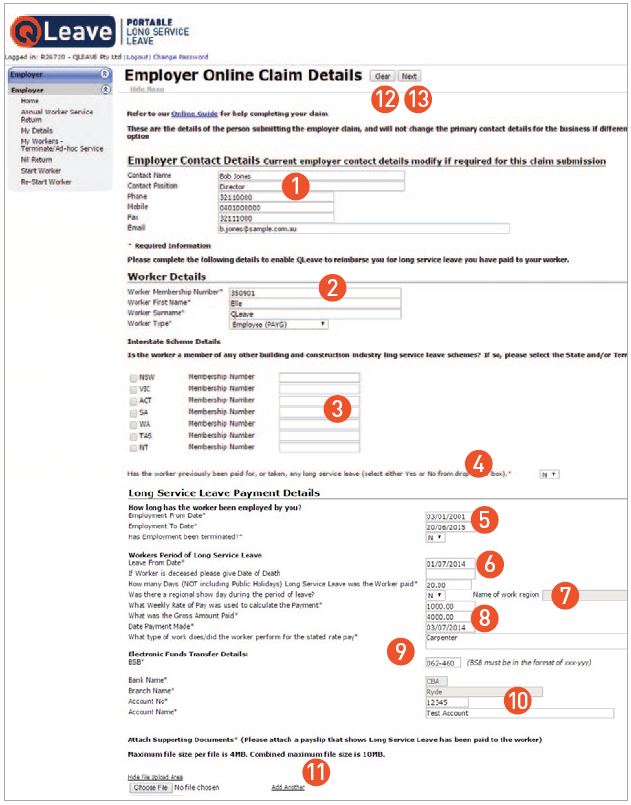 Your contact details currently recorded by QLeave will be displayed. Please update the information in these fields if your contact details have changed. Changes will be saved to your QLeave record.
In the Worker Details section, enter the worker's QLeave membership number, first name, and surname and specify if they are an employee, labour-only subcontractor or working director.
If the worker is a member of an interstate building and construction industry portable long service leave scheme, please provide their membership number/s (if known).
Please select Y for yes or N for no if the worker has previously been paid for, or taken, any long service leave.
Enter the worker's employment commencement date. If the worker has terminated employment with you, select Y and enter their termination date. If the worker is still employed by you, enter the date of their last day of work and select N for terminated.
Enter the date the worker commenced leave (continuing workers only). If the worker is deceased, please enter their date of death.
If a Regional Show day in your work area falls within the worker's leave period, select Yes and specify your work region (continuing workers only).
Enter the weekly rate of pay used to calculate the worker's long service leave, the total amount of long service leave paid (gross) and the date the payment was made to the worker. Please note: a maximum wage rate applies. Click here to view the current maximum rate.
Describe the type of work performed by the worker. For example, electrician or bricklayer.
Claims are paid via Electronic Funds Transfer (EFT). Enter your BSB, account number and name. Your bank name and branch are automatically generated using the BSB.
QLeave is only able to reimburse employers after the long service leave has been paid to the worker. Attach a copy of a payslip or other documentary evidence confirming that the leave has been paid to the worker.
To clear all data you have entered and start your claim again, click Clear at the top of the screen. Please note: all data you have entered on your claim will be cleared.
Once you have finished entering your claim information, click Next. Please note: all fields marked with an * are mandatory fields. Incorrect or incomplete information will be marked with a !. You will need to amend these fields before continuing with your claim.
After completing all mandatory fields, you will be required to review your claim details. Tick the Declaration box to confirm that the information you provided is true and correct.
To complete your claim, click Submit. If amendments are required, click Back to return to the previous page and update your information (see 15).
After submitting your claim, you will be provided with a claim number and the opportunity to print and/or save a copy of your completed claim form.