How to advise us if you didn't engage eligible workers this financial year
Employers can complete the employer advice online or by completing the Nil Return or Ceased Trading form.
Steps to submit a nil return online
1. Go to QLeave online services.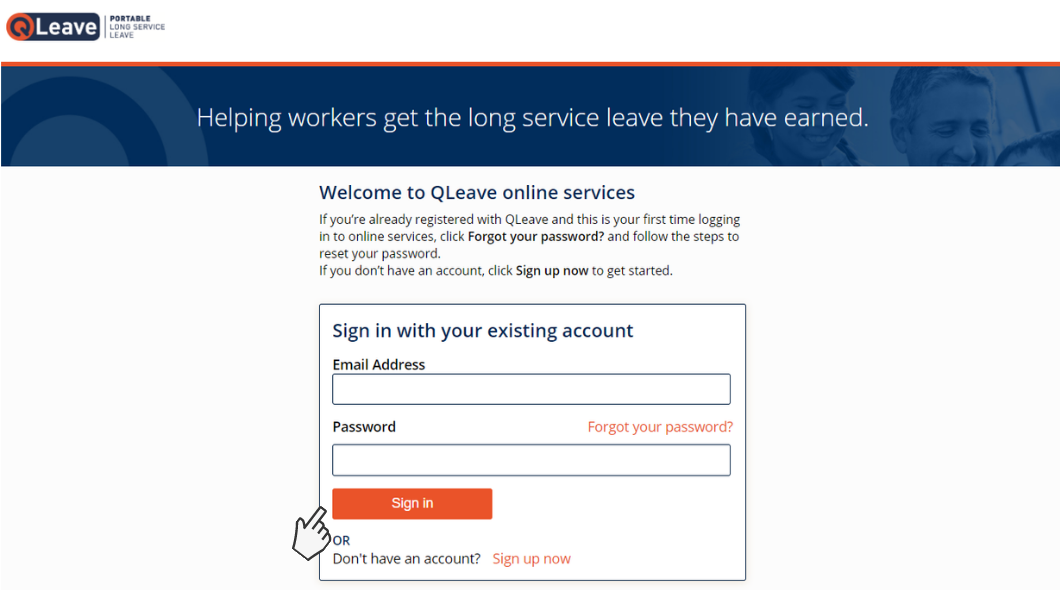 2. Enter your email address and password and click Sign in.
3. If you don't know your password, click Forgot your password? to reset it. A verification code will be emailed to you. Click here for help resetting your password.
4. Once you've logged in, you'll be taken to the online services home page. From the I want to menu on the right-hand side, select Submit my annual return.

1. In the outstanding tab, you'll see a list of your outstanding returns. These are listed by financial year.
2. Click create to start a new return. After you click create, you'll receive a pop-up asking you to add new workers. If you didn't engage eligible workers during this financial year, click continue.
If you engaged any workers during the financial year, you will need to complete a worker service return. Click here for instructions.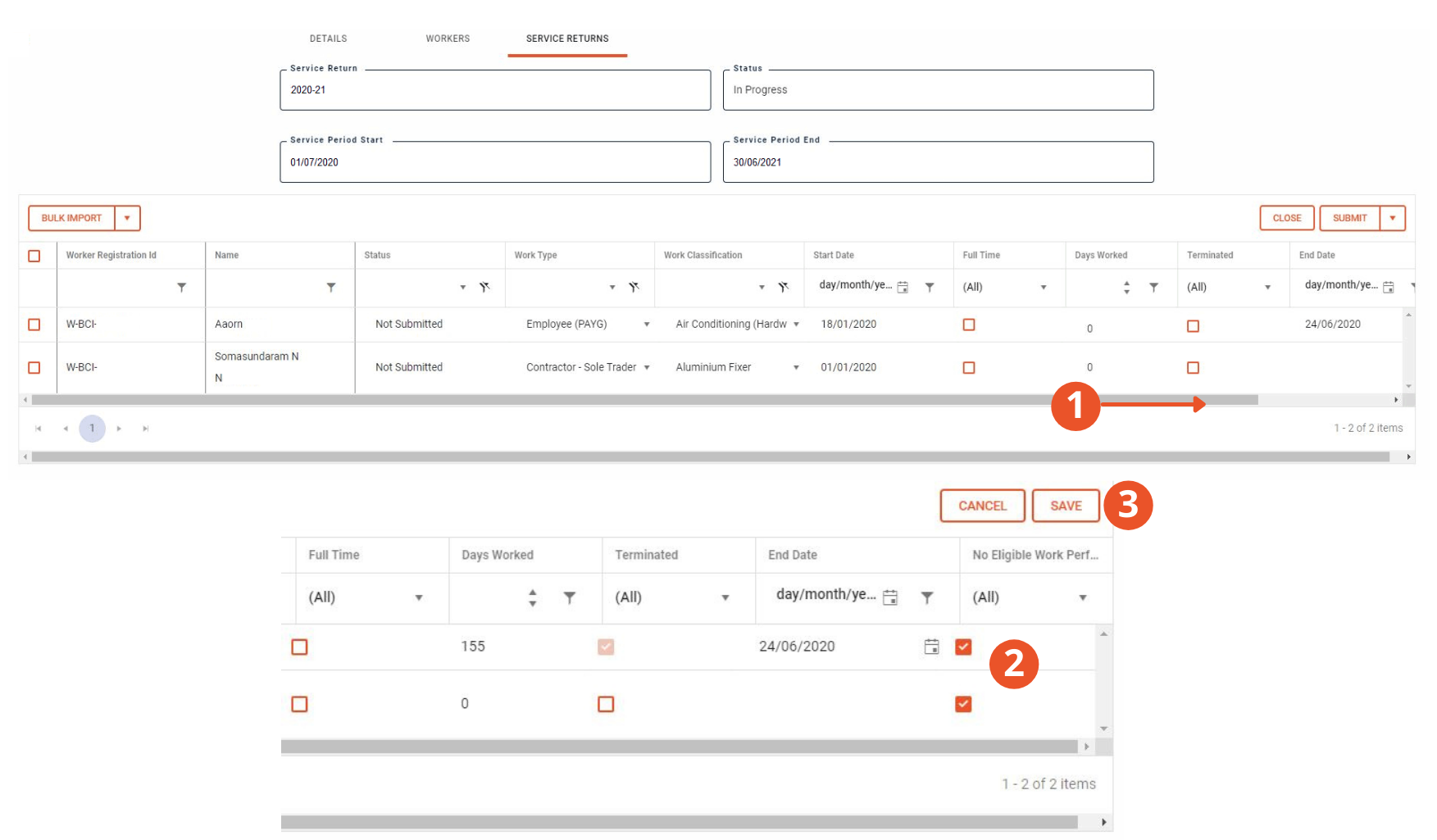 1. Once you've opened the service return, you'll see a list of all of your workers. Scroll to the far right of the service return table (until you see the column titled No Eligible Work Performed).
2. Tick the checkboxes under no eligible work performed for each of your workers. This will notify us that none of your workers performed eligible work for you this financial year.
Please note, a maximum of 10 workers are displayed on each page of the return. If you have more than 10 workers, you will need to click through each page and select no eligible work performed for your workers on each page.
3. Once you've marked this checkbox against each worker, click save.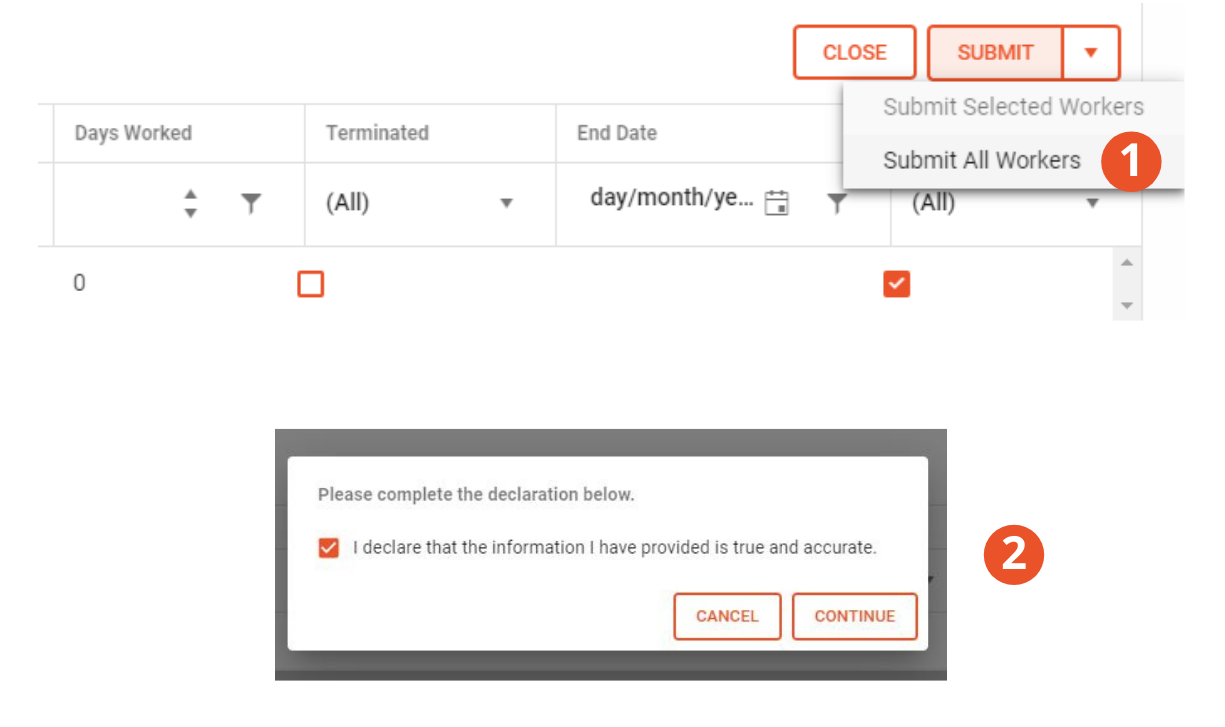 1. After you've saved your return, the button label will change to Submit. Click the down arrow next to the submit button and click submit all workers.
2. Complete the declaration and click continue. Your nil return will now be sent to QLeave and can view it under the complete service returns tab. We'll now process this as a nil return for the current financial year.
How to advise us if you've ceased trading
If you're no longer engaging eligible workers, contact us to let us know you would like to cancel your QLeave registration. You'll need to submit a worker service return for all terminated workers up to, and including their last day of work, before we can cancel your registration. After receiving the request to cancel your registration, we'll contact you to confirm details.