Steps to view your online service record
GETTING STARTED

Go to the online services log in page.
Enter your email address and password and click Sign in.
If you've forgotten your password or this is your first time accessing online services, click Forgot your password? and a verification code will be emailed to you. Once your email address is verified you can reset your password and log in.
VIEWING YOUR SERVICE RECORD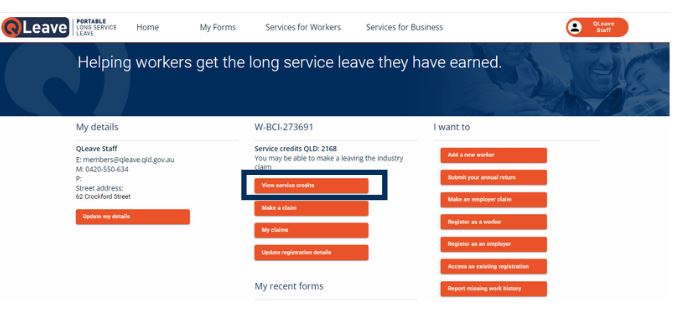 Once you're logged in you'll see a summary of your service record in the middle of the home page with your current Queensland service credit balance. To see your full service record click View service credits.
On the next page you'll be automatically taken to the My service credits page. From here you can check your service balance, history and start a claim if you're ready to.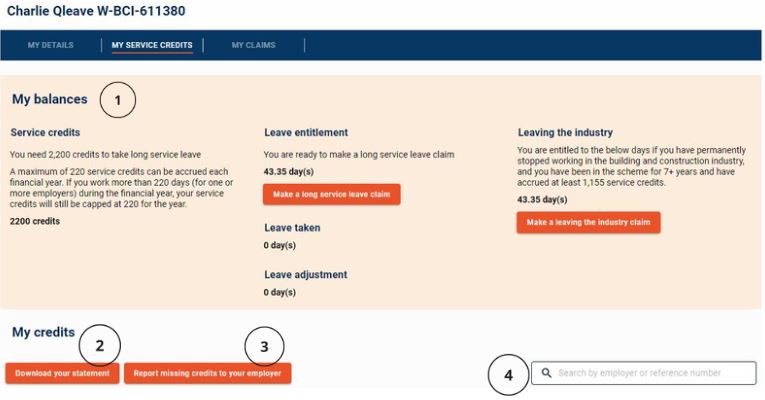 Under Leave entitlement, you can view how many service credits are against your QLeave record. You can also view your leave taken and any adjustments that have been made. This section also includes your service credit for a leaving the industry claim.
You can download and print a PDF statement of your service record. This statement shows all of the service that has been recorded for you since you joined QLeave.
Clicking here will take you to our missing work history page where you can find out more about finding your missing service.
You can use this search bar to search through your service for a specific employer.
UNDERSTANDING THE MY SERVICE CREDITS PAGE
My balances:

Service credits – displays the total number of service credits you've accrued since registering with QLeave. You need at least 2,200 service credits to take long service leave.
Leave entitlement – displays the number of days of long service leave you are entitled to take if you have 10 years or more of recorded service in Queensland.
Leaving the Industry – displays the number of days of long service leave you're entitled to receive if you've been in the scheme for at least seven years and have accrued at least 1,155 service credits. You can claim these days if you have permanently stopped working in the building and construction industry. Your QLeave registration will be cancelled if you make a leaving the industry claim.
Leave taken (days) – displays the number of long service leave days you've already taken. This may include:
- leave taken by you
- a long service leave payment made to you by your employer (which has been reimbursed by QLeave), OR
- similar payments made by an interstate long service leave scheme.
Leave adjustment (days) – displays any adjustments made to your long service leave days.

My credits - this section lists your service by employer and service period. You can see the work start and end dates that have been provided by each of your employers. If an employer or service period is missing from this section, please contact the employer and ask them to supply the details to QLeave.

You can search this list by the employer name, work classification, start date, end date, or status of eligible or pending service. This may help you to locate a specific employer or service period if you need to check the work was recorded correctly.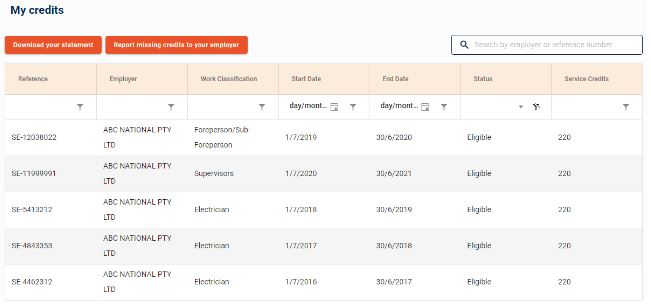 MORE INFORMATION ABOUT YOUR SERVICE RECORD
Check your service details – please check the list of service dates and employers to ensure all of your eligible service has been recorded with QLeave.
Contact the employer/s with errors or omissions – if you believe service is missing from your record, please contact the relevant employer and ask them to supply the details of your service to QLeave.
The maximum number of days that can be accrued in a financial year is 220. Even if you were engaged by more than one employer during a financial year and you worked more than 220 days, the total number of days will display as 220. You must record 2,200 service credits (10 years or more) to make a claim.